MyAirtel App Free WRX Token Offer
Get 1 Wazirx Token Worth ₹200 FREE Using MyAirtel App
---
MyAirtel App Wazirx Token Offer, WazirX Referral Code, MyAirtel WazirX Rs.200 Token Offer – Hello Coolz Readers!! Here crypto currency market is on fire and Today Airtel App is back again with the Maha Loot for their users. This offer is coming from My Airtel App and Airtel is Giving Free One WazirX Token (WRX Token) Worth Rs.200 for Free.
This offer is available for all users and this offer is only for limited time so loot if before it gets over. My Airtel app is now Airtel Thanks, best online recharge app and bill payment app for all Airtel services. Your online recharge and payment is easy and you also get exclusive Airtel offers.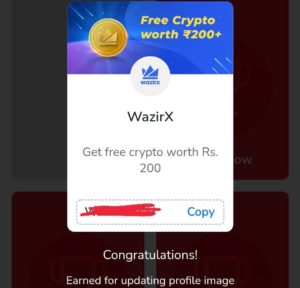 My Airtel App is The safest way to pay as it uses Airtel Network Intelligence to send alerts to your mobile number for all transactions. Airtel Safe Pay gives you additional layer of security with Airtel Payments Bank. Follow Given Steps and Get 1 Wazirx Token Worth ₹200 FREE Using My Airtel App.
---
How To Get 1 Wazirx Token Worth ₹200 FREE Using MyAirtel App :
1. First of All Download MyAirtel App From Given Link Here. :
2. Update or Download My Airtel App and Login using your Airtel Mobile Number. (Non Airtel Users can also Try)
3. Go to MORE Option and Tap on Your Profile and Update your Profile. Must update your Profile Picture and Gender and DOB and Save it.
4. Open Given Link Below using My Airtel App.
5. You will able to see Many Scratch Cards on the My Airtel App Page. Scratch All One By One until you Get Airtel WazirX Offer.
6. Scratch the Cards & Look For Wazirx Rs.200 Coupon. If You Don't See Wazirx Offer > Tap On [×] On Top Left Side & Do Again.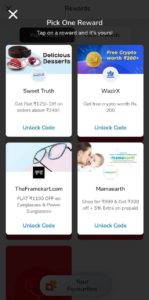 7. Do not select any other Offer then MyAirtel WRX WazirX Token Coupon Code.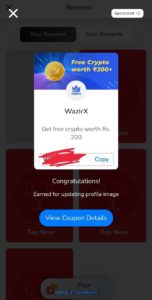 8. You will Get Free WazirX Crypto Token WRX Worth Rs.150 For Updating Your Airtel Profile. Redeem it on WazirX Account.
9. Download WazirX App From Given Link Here and Sign up and Complete your KYC and Apply Coupon Code and Get Rs.150 in your WazirX Account.
10. You can Apply MyAirtel App WazirX Coupon Code only if you have Created WazirX Account After 6th May 2021.
To Check Out MyAirtel WazirX Scratch Card : Open Airtel Thanks App > Tap On Discover (Top Right Corner) > Then Tap On Check Now (In Blue). There You Will See Scratch Card Keep Clicking On Cross Sign Until You See MyAirtel Wazrix Offer.
---
MyAirtel App WazirX Offer Terms :
1) The above Partner Coupon is solely being provided by WazirX ("Partner") and Airtel Digital Limited ("Airtel") shall not be responsible for any issues, claims, disputes regarding the Partner Coupon and the promotions hereto in any manner whatsoever.
2) You understand and hereby agree that Airtel is not responsible or liable for the fulfilment or provision of any goods or services availed by You from the Partner. The terms of your purchase and receipt of any product or service from the Partner is exclusively governed by your relationship with the Partner and subject to your acceptance to the Partner's terms and conditions. For further details of the Partner's Terms and conditions and for any issues and complaints, please visit https://blog.wazirx.com/guidelines-for-using-wazirx-voucher-coupon/.
3) Airtel is not responsible and liable for any Partner services or products being referred/offered in the offer. Airtel does not have control or will not be held responsible for any Partner or third party websites and its maintenance.
4) Airtel is not responsible for any software, technological issue in order to redeem the Partner Coupon.
5) Offer cancellation is solely subject to applicable Partner's terms and conditions.
6) Airtel is solely acting as a publisher of the advertisement(s) for the Partner