ByBit Shiba Inu Prize Pool
Win 10B Worth SHIB Tokens From ByBit Shiba Inu Prize Pool
---
ByBit Shiba Inu Prize Pool, ByBit Welcome 2022 SHIB Giveaway – Hello Coolz Readers!! Must Sign Up using Abra Wallet Referral Code and Get ₹3000 worth CPRX Tokens which you can sale instantly. Here is the official prize pool giveaway coming from ByBit which we have looted a lot last year. Welcome 2022 with 10B Shib prize pool. Free Shiba Inu tokens for all bybit users who can claim SHIB Tokens among 1,000,000 SHIB Tokens. Every users who will join this prize pool will receive a Random SHIB Tokens in their ByBit Wallet.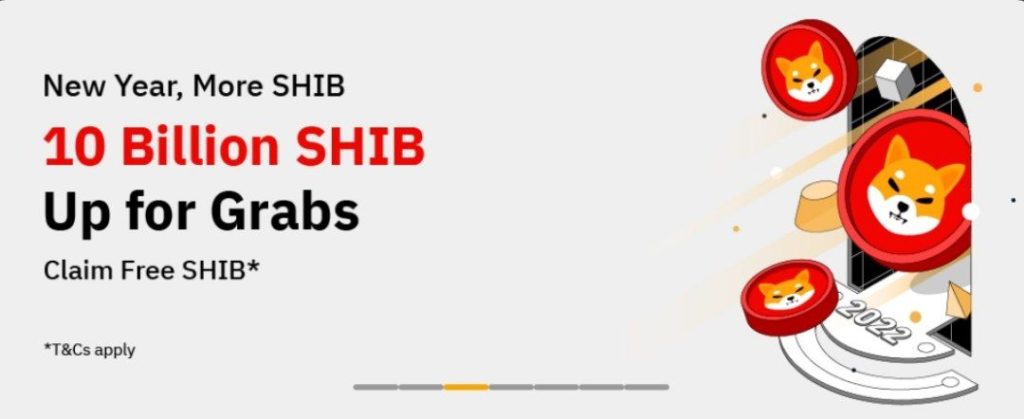 This offer is for All ByBit users as well as Spot Trades and Derivatives traders who will get extra bonus SHIB token from this Prize Pool. Total 4 Billion + 4 Billion SHIB tokens and 14 iPhone 13 will be available to claim for Spot and Derivatives Trades. This offer is only for limited trades on first come first base. Read out full post below and claim your SHIB tokens free.
Recently we have posted lots of SHIB INU airdrops from Sites Like coinDCX , Coinswitch etc. This meme coin is in news from last year as it grow almost 20000%.
---
Win 10B Worth SHIB Tokens From ByBit Shiba Inu Prize Pool :
1. First of All if you are a new user then sign up on ByBit or Just Login in your Account.
2. Go to Dashboard of the App and You will able to see Welcome 2022 with SHIB Offer Banner.
3. Tap on the ByBit Shiba Inu Prize Pool and you can claim your Free SHIB Tokens.
4. Tap on Claim Your Prize Button and You are successfully registered for this Prize Pool.
5. Every New user who claimed Prize will receive SHIB tokens with the maximum being 10,00,000 SHIB Tokens.
6. Only users who have not made their first Bybit Spot trade can qualify for the New Traders prize.
7. Only SHIB/USDT trades across Spot and Derivatives will be counted. Users can earn rewards from all the activities mentioned above if they meet the necessary requirements.
8. Eligible reward recipients will be notified within 7 working days from this campaign's end date. The results of the lucky draw will also be revealed within 7 working days from this campaign's end date on Twitter. Depending on the reward, users may be asked to provide their shipping particulars via email for delivery.
9. Bybit reserves the right to disqualify a participant if he/she engages in an inappropriate, dishonest, or abusive activities (like wash trading, volume faking, participating with multiple accounts, market manipulation etc.) during the competition.
10. Bybit reserves the right of final interpretation of the Terms and Conditions. If you have any questions, please contact our customer support team.