Dominos' Black Friday Sale is today. Now Domino's India has launched Free Pizza campaign on Tweeter as they are giving away Rs 200 Pizza for Free During The Black Friday. This campaign will be held on 26th November, 2021 from 6:00 PM to 11:59 PM. So Be ready.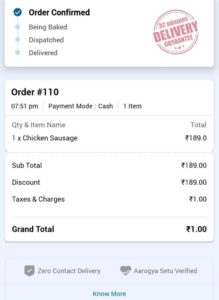 How to Decode the code and Get Pizza worth Rs 200 for Free?
1. First of all Follow the Domino's India Tweeter page from here
2. During Black Friday, on 26th November 2021 , Dominos' will tweet on tweeter & on each tweet there will be hidden coupon code
3. You have to decode the code & apply on your Cart on Dominos' app
4. 1st 100 Users will get instant ₹200 discount
5. Code will be invalid after 100 uses.
6. There will be multiple tweets from Domino's & there will be lots of codes
7. Just keep you eyes on their tweeter to get the code & claim discount
Tips – Keep your Food worth ₹200 ready in cart
Terms & Conditions-
Sale Period – The sale will be held on 26th November, 2021
Gratification: One coupon code will be released with every tweet & the
first 100 people to use the coupon code while placing an order on the
Domino's App will be able to redeem the code, and avail the Free Pizza
(upto ₹200) offer.
Offer cannot be combined with any other offer/coupon code.
We'll be disbursing coupon codes throughout the Ind-Pak match
period, through our twitter handle @dominos_india.
Once a coupon code is redeemed 100 times, the code will become
invalid.
Be amongst the first 100 users to avail the coupon code shared with
every tweet.
Delivery Charges Applicable as below:
• If the bill value is upto ₹200 then Re 1 will be charged as the delivery
amount.
• If the bill value is above ₹200 then the standard delivery charges
apply and the balance amount (above ₹200) has to be paid by the
customer.
No minimum order value but at least 1 core pizza should be part of the
order to avail the offer.
The coupon will not be applied at all if EDV is present in the cart.
The coupon will be applied but the discount will not be applicable on
combos.
The offer will not be applicable if there is a cancellation.
Sale is valid only for the citizens of India.
JFL reserves the right to discontinue the sale without prior notice.
Each participant consents to the use of the information supplied by the
participant in any media for future promotional, marketing and
publicity purposes without any further reference or payment or other
compensation to the participant, by JFL