CoinMarketCap NEAR Quiz Answers
[Free ₹800] CoinMarketCap – Win Free NEAR Token | Learn & Earn Answers
---
CoinMarketCap NEAR Quiz Answers – Hello Coolz Readers!! Here i am back with one more CoinMarketCap Learn & Earn Campaign Quiz Answers for you guys. Learn about NEAR & Take a Short Quiz to Earn NEAR before complete the Quiz. You just need to complete quiz and need to give 13 answers to eligible for the NEAR Airdrop.
NEAR is a layer-1 blockchain that is simple to use, super fast, and incredibly secure. NEAR has been awarded the Climate Neutral Product Label from the South Pole and is actively helping users and developers reimagine finance, community, and creativity
CoinMarketCap NEAR Learn & Earn Quiz Rewards :-
This NEAR "Learn & Earn" Campaign's reward pool is $40,000 worth of NEAR tokens. Successful users will receive $10 of $NEAR as a reward and 50 Diamonds additionally!
The Aurox "Learn & Earn" Campaign will run from 2021.12.03 (12:00 PM UTC) to 2022.02.02 (23:59:59 PM UTC). If you have not taken the lessons yet, please make sure to learn about the NEAR to complete the quiz!
CoinMarketCap NEAR Network Learn & Earn Quiz Time

:-
Indian Time is – 5.30 PM
The Aurox "Learn & Earn" Campaign will run from from 2021.12.03 (12:00 PM UTC) to 2022.02.02
---
CoinMarketCap $NEAR Learn & Earn Quiz Answers

:- :
1. First of All Open Given Link in your Default Browser to Start Quiz.
2. Quiz Will Live On 5.30 PM On 3rd December 2021
3. Tap on Start Button to Start the Quiz.
3. Complete Captcha and Tap on Next Button and Agree Terms and Start the Quiz.
4. Enter your Registered Email Address with CoinMarketCap. If you are not registered then First Register on CMC and Get back to Quiz.
5. Enter your Binance User ID. Go to Binance > Profile > Copy your User ID.
6. Now You need to Complete Quiz by giving correct answers.
Here are the CoinMarketCap Earn NEAR Quiz Answers. : [Do Your Own Research , Answers Can Be Wrong Too]
6 – All of above
7 – Proof Of stake
8- Climate Neutral Product
9 – All Of above
10- All of above
11- It dynamically readjust the number of shard based on usage.
12 – Connect The near and ethereum blockchain
13 – 3rd.
Then create NEAR wallet. if you already have then import it.
Add $NEAR Token In Watchlist | Like This 👇👇👇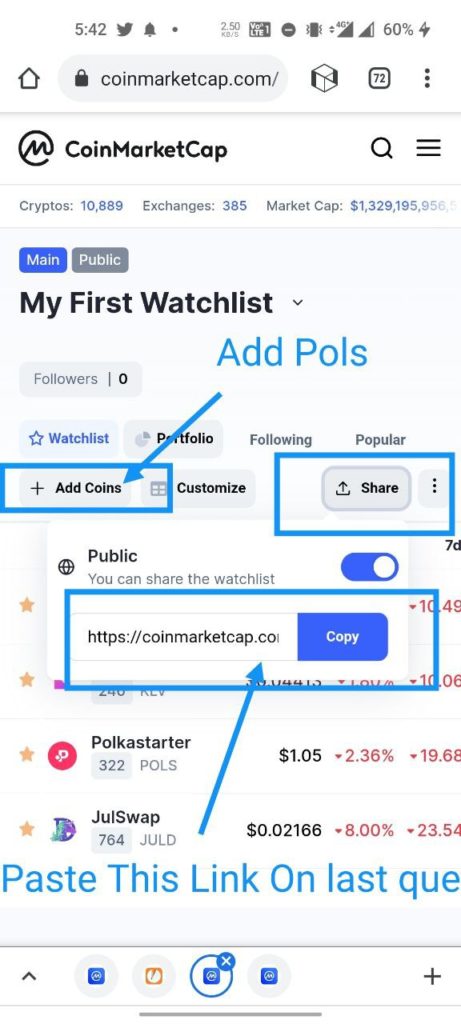 10. After Adding it in Watch List Tap on Share Button and Copy Your Link and Paste it in Quiz and Submit Answers and Complete the Quiz.
11. Winners will be declared soon and we will update it on CoolzTricks Telegram Channel.
Also Play –
[Free ₹800] CoinMarketCap Learn & Earn – Win NFTb Tokens | DeFi platform