Huobi Wallet Ula NFT Giveaway
Get NFT Worth Up To $200 Free Using Huobi Wallet Ula's NFT Giveaway
---
Huobi Wallet Ula NFT Giveaway – Hello Coolz Readers!! Check out Defy Exchange Free Bitcoins Offer and Get Free Crypto on your First Trade using Defy Referral Code. To celebrate the New Year of 2022, Huobi Wallet will release our mascot "Ula" with a campaign of lucky draw with 45,000 NFTs "Ula" NFT. We all are still looting Huobi Magic Miner Offer from this post. With a total supply of 45,558, each Ula features a unique design. For using Huobi Wallet you will get 1 lucky draw for free to draw and you can win Free ULA NFT's using this.
Here is the Ula's Fantastic NFT Debut where you can draw unlimited for 45,000 NFT's during the campaign period. Your draws will be cumulative since the campaign starts, and it will end once all Ula NFTs are drawn. Read out full post below and Get a chance to win assured ULA's NFT worth up to $50 in your Wallet.
---
Get NFT Worth Up To $200 Free Using Huobi Wallet Ula's NFT Giveaway :
1. First of All You need to download Huobi Wallet From Play Store or Download From Given Link Here. :
2. Open Above link and Install Huobi Wallet in your Device and open it.
3. Tap on Add Wallet Option from Dashboard.
4. Create a Random Password and Tap on Polygon Wallet.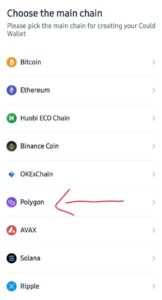 5. Tap on Standard Wallet and Create Polygon Address and Save Phrase Key.
6. Go to DApps Browser From Bottom and Open Given Link Below Using DApps Browser.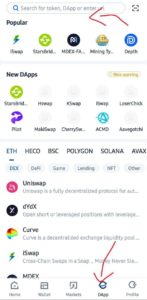 7. Copy Given Link Below and Paste it in DApps Browser.
8. Go to Dashboard and Tap on Confirm Button and Now Tap on Link To Wallet Button.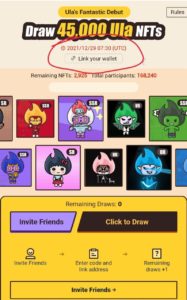 9. Link your Polygon Wallet and Confirm Your Polygon Address.
10. You will Get One Lucky Draw For Free. Try your Luck and if you are lucky enough you will get ULA NFT For Free.
11. Here i received ULA NFT price worth up to $250 which you can sell it.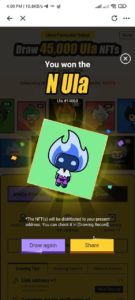 12. You'll get 1 draw when your wallet contains equivalent worth of asset not less than 50 USDT.
13. Campaign Duration :
Start time: 10:00, Dec 28, 2021 (UTC) (When you can collect your draws)
Drawing time: 10:00, Dec 29, 2021(UTC)
End time: 10:00, Dec 31, 2021 (UTC)
14. You'll get 1 draw by inviting a friend (the invitee should be a new Huobi Wallet user) to enter your referral code and link to an address.
15. There is no upper limit on the number of friends you can invite.