AscendEX Mystery Prize Box Celebration
Join AscendEX 3rd Anniversary Celebration to Win Multiple Mystery Prizes
---
AscendEX 3rd Anniversary Celebration, AscendEX Mystery Prize – Hello Coolz Readers!! Here you guys can join Huobi Trade Win Spin Offer where you will get Free Crypto Tokens for completing Trading Volume. Here is one more offer coming for all AscendEX old and new KYC Verified users where every user who will complete atleast one task will get 1 Spin under this AscendEX Mystery Prize Box Offer. AscendEX will provide users with a series of exciting mystery prizes as a way to celebrate its 3rd anniversary.
A variety of well-designed mystery prizes can be unlocked by users, including NFTs, bid quotas in the next project auction, 45,000 USDT worth of airdrop rewards in tokens, well-designed swag marking AscendEX's 3rd Anniversary, and more.
---
Join AscendEX 3rd Anniversary Celebration to Win Multiple Mystery Prizes :
1. Open Given Link to Register on AscendEX Mystery Prizes Box Offer. :
2. Now you need to complete tasks to get Spin and to win free crypto prizes.
3. If you are a new user then Sign Up by tapping on Sign Up Button and you will get 1 Free Spin.
4. You can Refer atleast 3 Friends to win extra free spin and there are many more tasks which you can complete if you want to do to earn more spins.
5. Here i Receive $10 USDT Future Trading Bonus just for signing up under this offer.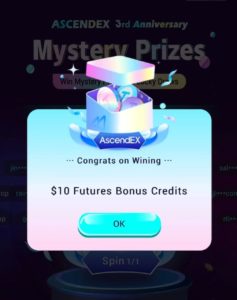 6. Users who completed at least three tasks but did not unlock any mystery prizes will be eligible to evenly share 10,000 USDT worth of rewards.
7. Each user can receive a maximum of 8 chances for a lucky draw.
8. Users need to verify their accounts before claiming their mystery prizes.
9. Rewards will be distributed to the accounts of the winners within 15 days after the events' conclusion.
10. Offer Period : December 7, 2021 2:00 AM to December 14, 2021 (UTC)