Huobi Pro GARI Token Airdrop
Join Huobi Pro GARI Token Pre Sale & Win GARI Tokens Free
---
Huobi Pro GARI Token, GARI Token Pre Sale, GARI Token Airdrop, GARI Token Price – Hello Coolz Readers!! We all know that Salman Khan is endorsing Chingari Short Video App's First Digital Token Name GARI Tokens on Social Media. Here you can read out more details about Chingari App GARI Token in deep to understand about India's First Social Network Token Named $GARI Token.
The GARI Token offers Chingari App users a gateway to the blockchain space. The goal is to empower both creators and viewers on the Chingari App with technological tools to interact directly with each other and allow all users on the Chingari App to participate in the long-term direction of the social economy impacting the GARI Token.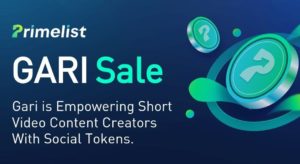 GARI Pre Sale is going to be on Huobi Pro Referral Code App which is one of top Crypto Exchange in World. You can understand how the GARI Token Price will go up as it is going to launch on Huobi Pro. Gari is Empowering Short Video Content Creators With Social Tokens. The GARI Token is interconnected with the Chingari App.
---
Join Huobi Pro GARI Token Pre Sale & Win GARI Tokens Free :
1. First of All if you are a New User then Sign Up on Huobi Pro and Complete your KYC.
2. It will take just a minute to Complete your KYC Verification.
3. Go to Dashboard of Huobi Pro App and You will able to see 4.5 Million GARI Token Banner.
4. You have 2 Tasks to Complete and You can Win GARI Tokens among the Total Winners who are going to be selected for This Airdrop.
5. First Task : Reach a minimum daily average spot trading volume of 200 USDT in any digital asset between 15:00:00 on 12 Jan (UTC) and 9:45:00 on 18 Jan (UTC).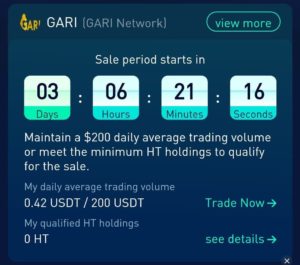 6. You need to Compelte Total $200 Trade Volume to get a Chance to win GARI Token. Here i started to complete Trading Volume
7. During the campaign, you can check your trading volume at any time on the event page. Trading volume counts both buys and sells
9. Second Task : Which is difficult as you need to Hold HT Tokens. HT Token Price is high and you need to Hold atleast 300 HT Tokens between 16:00:00 on Jan 14 (UTC) and 15:59:59 on Jan 17 (UTC) which is difficult. So Complete First Task and Get a Chance to win GARI Tokens.
10. Event Period : 12 January, 2022 to 18 January, 2022
11. Trade Volume GARI Token Airdrop Allocation : 22,50,000 Tokens
12. HT Token Holding GARI Token Airdrop Allocation : 22,50,000 Tokens